Motto by Hilton New York City Chelsea
Dry Cleaning/​Laundry Service*
Express Check-in and Check-Out
Chic in the heart of Chelsea
The best hotels in New York City are 1) located in fun and convenient neighborhoods and 2) filled with great city views. We are happy to report that the new 42-story Motto by Hilton New York City Chelsea checks both boxes.
For starters, it sits between Chelsea and Flatiron, two fun and trendy neighborhoods known for their galleries, parks, bustling restaurants and bars, and bigger attractions (Madison Square Park, Chelsea Market, The Highline, and the Flatiron Building are all closeby). And the amenities at Motto are top-notch, too. Though the rooms are not the largest in the world (this *is* the home of Carrie "I keep my shoes in my oven" Bradshaw, after all), their floor-to-ceiling windows overlook the skyline, giving you that quintessentially urban feel that defines the NYC experience. They're also super comfy, decorated with bold colors and unique designs that reflect the surrounding neighborhoods.
Perhaps most importantly, though, Motto by Hilton is home to the classic Italian restaurant Bar Cicchetti, led by Top Chef fan favorite alum Fabio Vivian. Mornings here are all about the coffee, fresh pastries, and breakfast bowls, while evenings are meant for those perfect NYC nights that revolve around sharing plates with friends (the name of the bar literally translates to "to share"). Bonus: Your CosmoTrip includes a complimentary Cosmopolitan at the bar, so start with that and then move on to one of Bar Cicchetti's signature pastas, paired with a glass of wine from their very extensive menu.

Motto by Hilton New York City Chelsea
Chic in the heart of Chelsea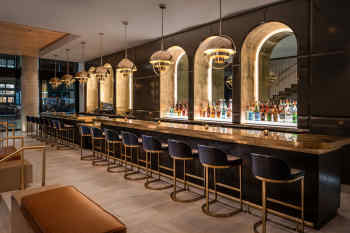 Start over
On a full map