Canopy by Hilton Austin Downtown
Dry Cleaning/​Laundry Service
Express Check-in and Check-Out
Made-for-IG pool Downtown
Located in the heart of the popular West 6th Market District, this chic 140-room hotel is the perfect homebase for your time in Austin.
For starters, Canopy by Hilton is Hilton's younger and more modern lifestyle brand, so your stay will definitely have a cool boutique feel. All Canopys by Hilton are intentionally located in fun neighborhoods and designed with an emphasis on natural light and neutral tones—and this one is no exception. The modern rooms are not only airy and bright, they also have everything you need to get ready for the day and unwind at night, from free high-speed Wi-Fi to a good flatscreen TV to sleek wooden furniture to solid air conditioning (a must during Austin summers).
The food situation is on point here, too. The hotel puts out free coffee and freshly-baked pastries in the lobby each morning, and the on-site restaurant and bar, The Verbena, serves delicious Mediterranean and American fusion dishes with a focus on local ingredients. With tables both inside and outside in a lush, plant-filled courtyard, The Verbena's vibe is very rustic-meets-industrial chic (think cozy wooden tables, sleek black accents, and all of the Edison bulbs). Bonus: CosmoTrips guests get daily breakfast or brunch $20 credit per person and a complimentary glass of wine or cocktail at The Verbena, so don't sleep on those #perks! 
Last but certainly not least, there's also a nice gym and a sweet, made-for-IG pool with bright orange lounge chairs and sunset views for days. Bonus: CosmoTrips Groups receive an afternoon poolside cabana reserved from 4-6. The hotel also lets you borrow their complimentary bikes, so you can go for a ride through the many nearby parks and trails (we recommend heading straight to Lady Bird Lake, Austin's #1 nature hangout spot).

Canopy by Hilton Austin Downtown
Made-for-IG pool Downtown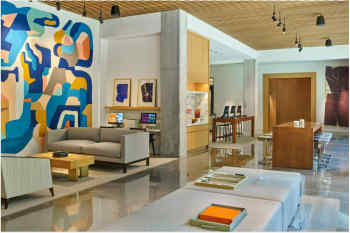 Start over
On a full map